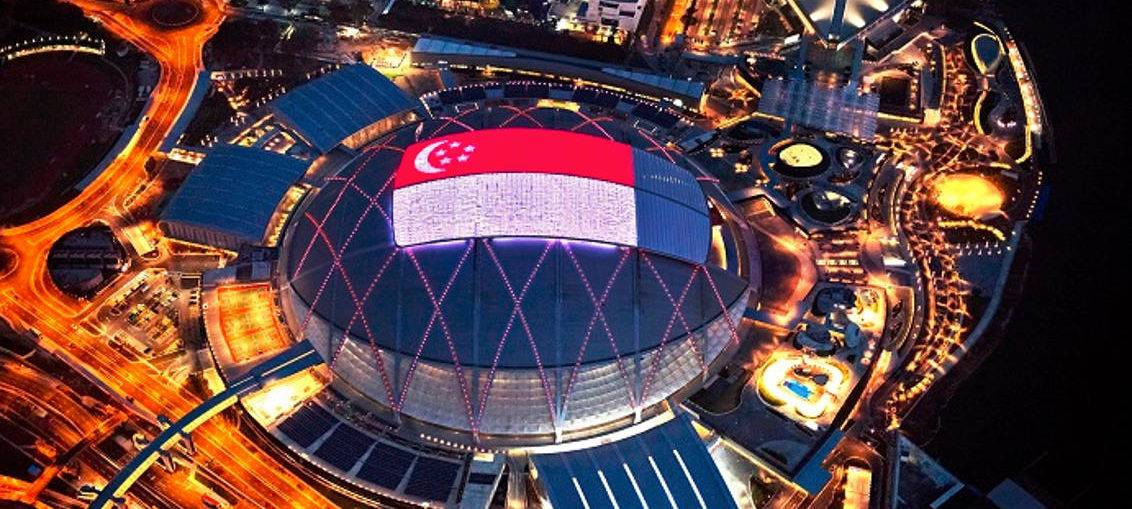 Photo credit: Sport Singapore 
The Singapore Sports Hub has received a Top 50 Engineering Feats @ IES-SG50 award at The Institution of Engineers, Singapore (IES) Golden Jubilee Gala Dinner at the Ritz Carlton Millenia Singapore.
The event was held in celebration of Singapore's 50th birthday in 2015, IES's 50th anniversary in 2016, contributions by engineers to Singapore's economic, infrastructural and societal development and 50 years of engineering achievements in Singapore.
Commented Manu Sawhney, Chief Executive Officer of the Singapore Sports Hub, "We are honoured to receive this prestigious award. Singapore Sports Hub is Asia's first integrated sports, leisure, entertainment and lifestyle destination and has placed Singapore on the world stage for its ground-breaking innovations, and architectural and engineering excellence.
"It is a key project in the Singapore government's urban redevelopment and sports facilities master plan to promote a more sustainable, healthy and active society at all levels of participation, nation-wide."
Accepting the cast bronze commemorative plaque from Guest-of-Honour Prime Minister Lee Hsien Loong during the gala dinner, Oon Jin Teik, Chief Operating Officer for the Singapore Sports Hub who remarked, "It is a privilege to receive this prestigious award on behalf of the company and engineers involved in its design. Arup was enlisted in 2010 to lead the architectural design on the sports venues, and the engineering design of the Singapore Sports Hub, and together with Electronics & Engineering Pte Ltd, have exhibited profound commitment, dedication and ingenuity for this first of its kind project. We sincerely thank all the engineers and designers involved in this project for their exceptional work."
"It has been a privilege to work on such a distinctive project, unique in its engineering complexity and scale. I'm proud that we were able to bring together the best of Arup globally in sports architecture, master-planning, and engineering to design a world class sporting facility for Singapore that will also benefit future generations. Being able to contribute to the nation-building heritage of Singapore has been a notable experience for us," said Andrew Henry, Principal, Arup.
"We are truly honoured to have had the opportunity to work on this prestigious project, especially since we were involved in the original National Stadium more than 40 years ago. A lot has changed since then and we wanted to bring the latest technological advancements in the fields of audio and video to match the state-of- the-art engineering and facilities at the new Singapore Sports Hub," commented Ronald Goh, Managing Director, Electronics & Engineering Pte Ltd
Launched in 2015 by the IES, the Engineering Feats @ IES-SG50 is a national competition aimed at recognising the top 50 engineering achievements across various fields of engineering deemed to have made the greatest economic, infrastructural or societal impact to Singapore since 1965.
Over a hundred project owners and engineers from more than 20 industry sectors submitted their nominations to IES and entries were shortlisted through public voting. The 50 projects with the highest number of votes clinched the title of Top 50 Engineering Feats and were recognised at the IES Golden Jubilee Gala Dinner.
Since its inception, Sports Hub has received 14 design or engineering accolades including two IStructE Singapore Structural Awards 2015 (Supreme Award for Structural Engineering Excellence and Award for Sports or Leisure Structures) from The Institution of Structural Engineers, Architectural Ironmongery Specific Awards 2014/2015 presented by the Guild of Architectural Ironmongers & Royal Institute of British Architects and winner of the World Architecture Festival for Completed Building in the Sports Category.