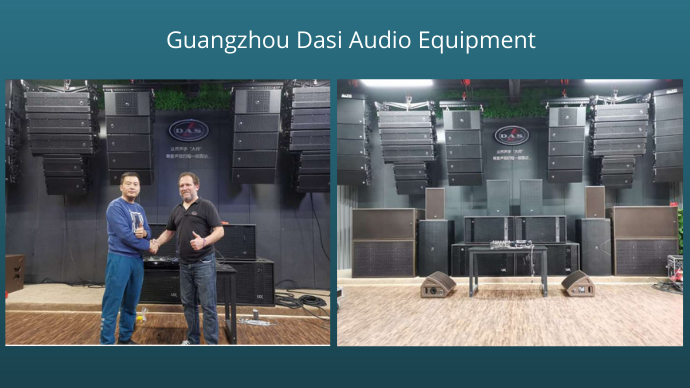 DAS Audio has appointed Guangzhou Dasi Audio Equipment as its exclusive dealer for the entertainment market in China, handling the club, bar and KTV sector.
The newly established company is headed by General Manager and Technical Director Zhou Zechu and his team members, many of whom have 20 years of experience in pro audio. A sister company has handled brands including Alto and Samson, and Alto joins DAS Audio in the portfolio of the new setup, which will focus on providing system design, installation, and technical support for the Chinese entertainment market.
"We have built good communication and trust with Mr Zhou and his team, which is an important basis for cooperation between us," said Kan Wei, General Manager of DAS Audio's Chinese subsidiary, AV Ganguan in Shanghai. "Mr Zhou pays very detailed attention to the projects he handles. His team is composed of people of all ages with rich experience in the entertainment industry. We are honoured to be able to work with such a young, professional team."
The two parties connected during Prolight + Sound Guangzhou in 2019. "I was very impressed with the sound quality of DAS in a local club back in 1998," explained Zhou. "After talking to Ms Kan, we found we had similar outlooks. The investment in high-end nightclubs in China in the past two years has been huge, and we were lacking a leading international brand. DAS will complement our original portfolio very well."
Guangzhou Dasi Audio Equipment is located in Panyu, near to many peer companies working in the professional lighting and audio industry, which will help to facilitate networking and customer visits. The company has a 100m2 demonstration hall where guests can listen to DAS's Aero, Artec300, Vantec series products. Before the official opening, which was marked by a ceremony at the company's office, DAS Audio's System Engineer German Rodriguez, who handles technical support in APAC, conducted a two-day technical training for the new team.
"In the first half of the year, markets like tourism, live event and clubs encountered many difficulties, but this is a new business opportunity," continued Zhou. "The entertainment market is recovering rapidly from the pandemic. At the same time, investors will be more cautious when choosing brands, especially big clubs, which I feel will be choosing high-quality brands. This is why I have cooperated with DAS."
Added Kan,"During the pandemic, we felt the power of unity more deeply. By joining with Mr Zhou's team, we are more confident we can deliver DAS Audio to the Chinese market."