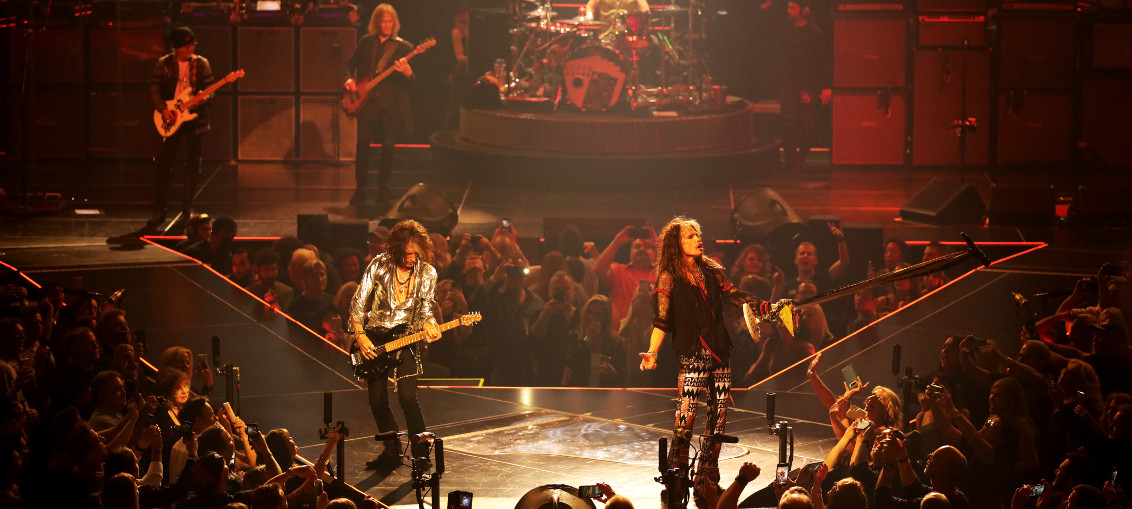 A
erosmith has launched its
"Deuces Are Wild" residency
at the
Park Theater at MGM in Las Vegas
with a
multi-sensory experience
that's playing to sold-out houses. The show features Claypaky Mythos 2 and Sharpy Wash lighting
fixtures provided by PRG
.
The band, which has sold more than 150 million albums worldwide, added more dates to its residency at the 5,200-seat Park Theater due to extraordinary demand. Aerosmith will now play dates through June 2020.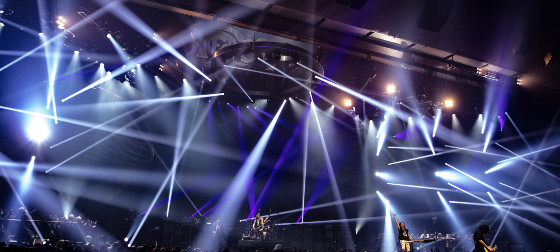 "We wanted to do a Vegas version of a rock 'n roll show – Aerosmith's legacy show tweaked and polished a bit for Vegas," said Nick Whitehouse, Co-founder of New York City's Fireplay, which handled the lighting design, production design and SFX design for the show.
"The stage at the Park is 120 feet wide, and we wanted to use the full space," he explained. "During the show there are people on stage who paid for the VIP experience. There's a massive automated band logo and band name with wings that open on stage. A lift raises the band and puts them at the base of the letter 'A' to start the show. A big screen upstage and a see-through widescreen downstage also put Aerosmith in the middle of the video content."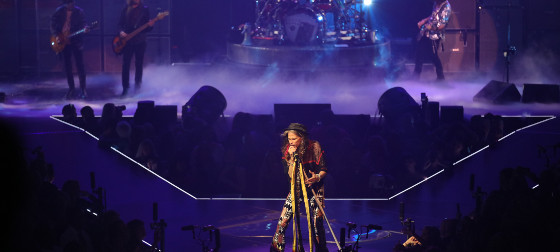 Complementing all the dynamic visuals is what Whitehouse calls "a big, old-school light show." He selected 100 x Claypaky Mythos 2 fixtures and mounted them "everywhere – on ladders flanking each side of the stage, in the logo, on the deck, pushing out over the crowd. The Mythos deliver the big, wide rock 'n roll beams we wanted as well as act as washes and spots – the only real hybrid fixture that can do that."
He also chose 60 x Sharpy Wash 330s (watch) for the ladders and a catwalk that drops in near the end of the show. "With the Sharpy Washes it's easy to emulate the old-school PAR can look and get different focus positions and colors," Whitehouse noted.
"Everything looks fantastic! 'Deuces Are Wild' is a big rock show tailored for Vegas," he declared.