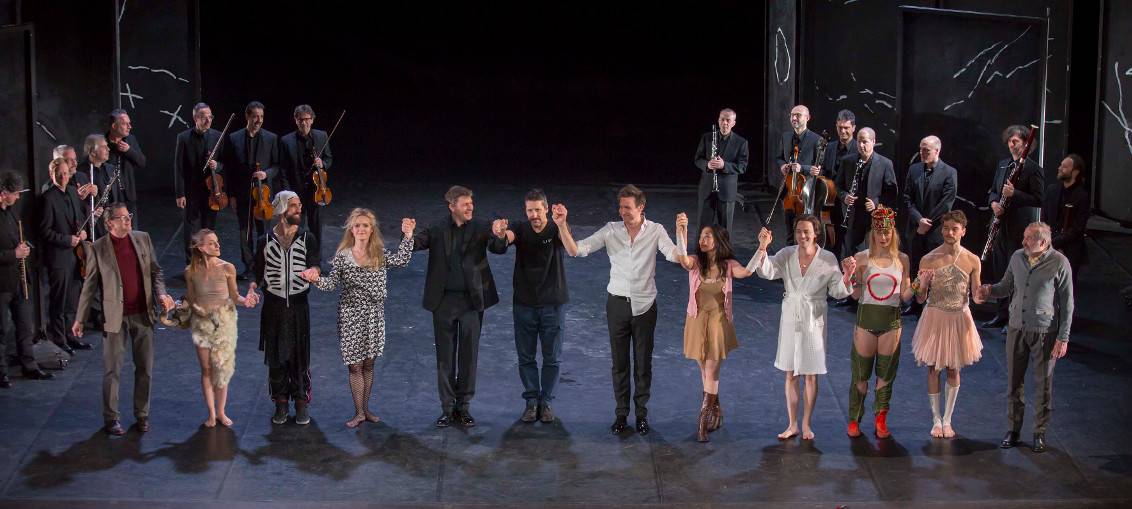 Dionysos Rising is a new opera by Roberto David Rusconi, and part of the vibrant OPER.A 20.21 programme from the Haydn Foundation of Bolzano and Trento, Italy. The production brings modern context to the myth of Dionysos, the ancient Greek God of wine, fertility, ritual madness, religious ecstasy, and theatre, and is set in a rehabilitation centre for patients suffering from mental health issues.
Roberto David Rusconi is the 2019 Artist in Residence for the Haydn Foundation and is well known for his wide-ranging portfolio of immersive musical experiences for opera, theatre, and dance, as well as extensive work in music for film and TV.
The Dionysos Rising music uses a small orchestra together with live voices and playback. To convey this ambitious immersive soundscape and complex scoring clearly and intelligibly to the audience, Rusconi turned to L-Acoustics' L-ISA Immersive Hyperreal technology.
He was first introduced to the system by L-Acoustics Director of Scientific Outreach, Etienne Corteel. "I – wanted to work with Etienne since we met on another project back in 2014. I got together with him and Christian Heil (President and Founder of L-Acoustics) and they explained their ambitions for L-ISA and what it could mean creatively. It was a real stroke of luck–the right time and the right place. My goals were identical to theirs, and the opera project had just been commissioned. I was looking for something, and I found the best."
Rusconi worked with the L-ISA Controller and Processor at his own studio for several months, exploring their creative possibilities before approaching the show's producers with the plan for a technical infrastructure that could deliver the Dionysos Rising score.
"I told them that anyone can produce an opera, but no one else can deliver a full immersive experience like this one."
A close relationship with L-Acoustics throughout the project was particularly important to Rusconi. "I had lots of support over the two years that it took to bring the opera to the stage," he said. "At my home, at rehearsals, and with the design of the final L-ISA configuration."
The January production of Dionysos Rising took place at Teatro Sanbapolis, a compact venue designed as a versatile space for a wide range of performances. The 15.1 L-ISA configuration consisted of 5 x X12 enclosures for the scene system across the front of the stage, 10 x X8 for the overheads and surrounds, and 2 x SB18 subwoofers flown centrally above the audience. All loudspeakers were driven by 5 x LA4X amplified controllers.
"L-Acoustics already had some great products," commented Rusconi.  "The L-ISA technology makes things even better. We are all used to headphones, which simulate a 360-degree experience. The experience in a theatre, however, can be poor in comparison. Now L-Acoustics is saying, 'Here is a solution to the problem'. This is very important for opera, where amplification isn't normally well-accepted. It's important that the news gets out; a new technology is here, and it's top-notch quality."