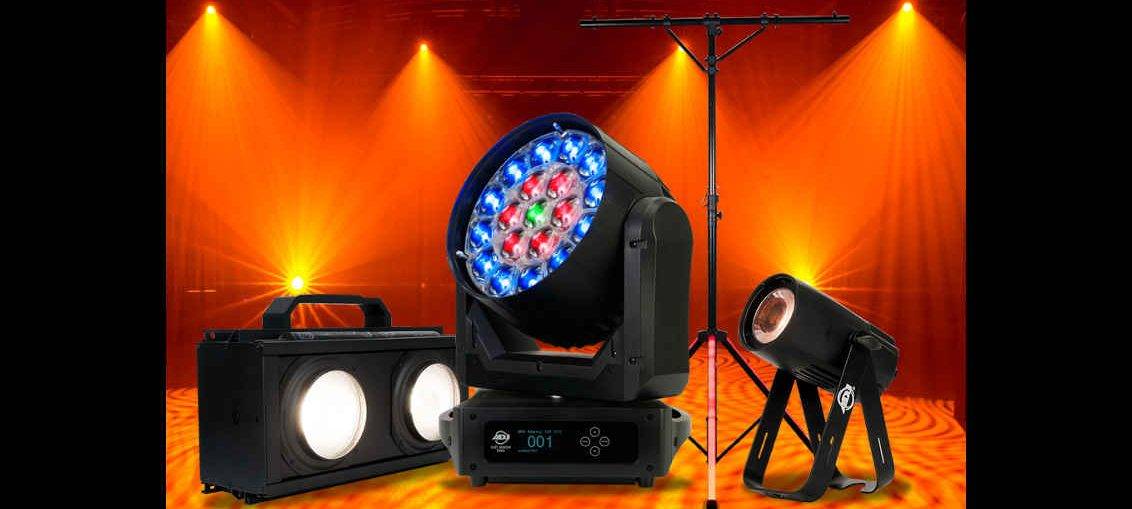 Expanding the Vizi Series of professional-caliber moving heads, the new Vizi Wash Pro is ADJ's most powerful wash fixture to date. Powered by 19 x 30W RGBW Osram LEDs and boasting motorized zoom that offers a beam angle of between 5 and 50 degrees, this potent fixture is equally suited to tight mid-air beam effects as it is to far-reaching wash lighting. Its LEDs are also arranged in three concentric circles, which can be independently controlled to allow for dynamic eye-candy effects. With an affordable price tag – alongside professional features such as powerCON power input, both 3-pin and 5-pin DMX sockets, and a large backlit display panel –the Vizi Wash Pro is an extremely attractive proposition for lighting designers and installers.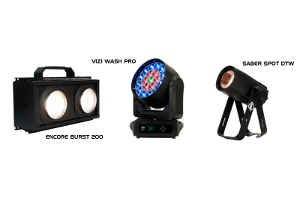 The Encore Burst 200 will also be showcased for the first time at this year's NAMM. This innovative new addition to ADJ's Encore Series of professional stage lighting fixtures is a dual blinder unit featuring high intensity 110W COB warm white LEDs (2700K) that offer cutting-edge 'dim to warm' technology to create an authentic tungsten lamp effect with all of the energy saving and long lamp life advantages of LED light-sources. Housed in a robust metal enclosure, the Encore Burst 200 features unique extrusion rails and locking pins that allow multiple units to be easily joined together either vertically or horizontally to create larger blinder configurations.
Another fixture to utilize ADJ's new 'dim to warm' LED technology is the Saber Spot DTW. This new version of the popular Saber Spot LED pinspot unit is ideal for applications where an authentic tungsten-style illumination is required. The compact fixture features a 15W warm white LED, a scissor bracket system that allows it to be hung or set on the ground and it also incorporates a built-in ACL lens to produce a 20-degree beam angle making it perfect for table spotting, small performance stages and retail applications.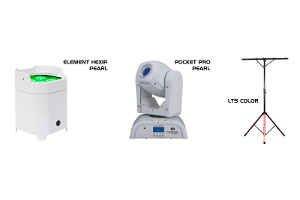 Following the success of ADJ's Color Stand LED, the speaker tripod with LED-illuminated legs, NAMM 2018 will see the debut of the new LTS Color. This unique lighting stand can support an evenly-distributed load of up to 100lbs. and is supplied with an IR remote which can be used to select a wide variety of static colors and dynamic chase patterns. Ideal for mobile entertainers and performers who want an eye-catching alternative to a regular lighting stand, the unit could also prove useful for production companies looking for an aesthetically-pleasing way of highlighting the potential trip hazard of tripod legs.
ADJ have also introduced two popular lighting products now available in white housing. The already shipping, Element HEXIP Pearl, is an IP54 outdoor rated battery powered LED Par with ADJ's WiFLY EXR wireless DMX for indoor or outdoor use. It is powered by four 10W RGBAW+UV (6-IN-1) HEX LEDs. The Element HEXIP Pearl is lightweight and easy to operate with a carry handle and kickstand for up lighting, staging, events, productions and any mobile application. No cables or wires are needed.
Also in an all-white housing, the Pocket Pro Pearl, is a compact, yet powerful spot style moving head fixture for mobile entertainers or venues with low ceilings where smaller fixtures are ideal. With a punchy 25W LED source, powerCON input and 3-pin DMX In/Out, the Pocket Pro Pearl, features an easy-access head where the seven stock GOBOs may be replaced for custom designs. It comes with four additional GOBOs and a built-in color wheel with seven vibrant colors. Both white fixtures are designed for installations in night clubs or churches where a white motif is desired, or for mobile entertainers that are looking for a stylized white fixture look.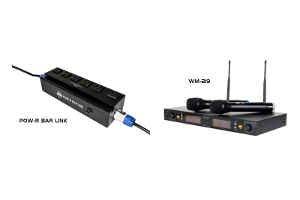 Part of the POW-R Bar Series, the new ADJ POW-R BAR LINK, which will also debut at NAMM 2018, is a forward-thinking tool for any working entertainer, stage or installation that helps make powering electronics easier. It incorporates 6 surge-protected AC Edison power sockets, a locking powerCON in cable and a locking powerCON through connection to link multiple POW-R BAR LINK units. Made from heavy-duty metal construction, it also has a M10 bolt so that it may be attached to a clamp and hung in truss.
NAMM 2018 will also see the official debut of American Audio's new WM-219 dual wireless microphone system. Featuring two high quality handheld microphones – each with a different color end cap for identification – and a rack-mountable twin receiver that has independent tuning and level controls for each mic, this system is ideal for churches, entertainment venues and mobile entertainers.
"At ADJ we're committed to the constant development of exciting new products that are affordable, reliable and precisely meet the needs of professional lighting users at all levels," comments ADJ USA's National Sales Manager, Alfred Gonzales. "At NAMM 2018 we'll be demonstrating eight brand new products for the first time. They are suitable for very different applications and budgets, but all exemplify ADJ's commitment to innovation, reliability and value."
These new units will be on display at NAMM 2018 alongside many of ADJ and American Audio's other popular professional lighting, video, effects and audio products. ADJ will be found at booth #11433.