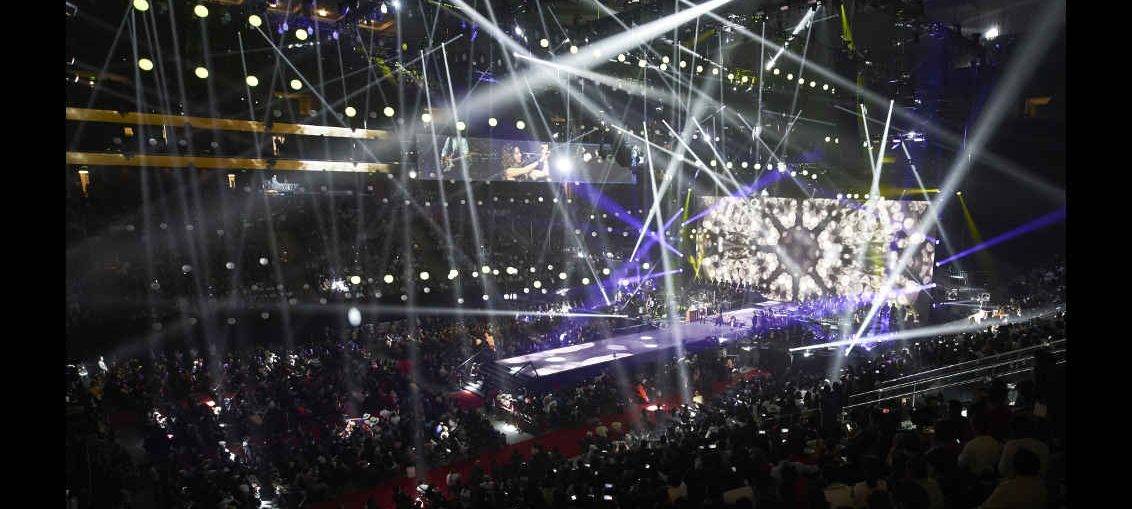 Every two years, the anti-aging skin company Nu Skin holds a four-day experience that combines philanthropy, business sessions, recognition and entertainment in a dynamic mix. For the past decade, Nu Skin has turned to Atlanta based Executive Visions Inc. (EVI) and its large team of producers and creative thinkers to create a tailored, exciting and memorable experience for distributors and guests from around the world. For 2017, EVI President & CEO Michael Marto had something very special in mind.
"We wanted to use a massive social program to attract young people to the company as part of a strategy for growth for Nu Skin," said Marto. "We didn't have Maroon 5 and Hans Zimmer just because they are massive global talents, but also because they speak especially clearly to a millennial audience through the international languages of music and movies."
John Featherstone, Principal at lighting and visual design firm Lightswitch picks up: "Several years ago Michael 'dared me' to dream of a bespoke corporate experience that featured musical genius Hans Zimmer, and since then it has been a shared goal of ours. Michael wrapped this exclusive concert experience in a targeted message of excellence and virtuosity, and bookended the audience experience with a massive opening fundraiser for Nu Skins charity Force for Good, featuring Maroon 5. Then for good measure, he arranged for the whole thing to be webcast around the globe to millions of people – THAT is not your everyday corporate show!"
"Nu Skin global LIVE!" began with a Wednesday night gala fundraiser and silent auction on the floor of the arena. Later that night the arena filled for a special concert by Maroon 5.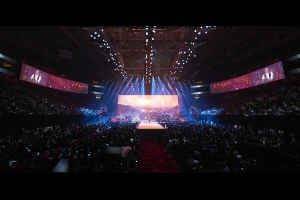 Thursday featured business sessions capped by a Nu Skin's Got Talent show starring contestants selected from around the world. Friday wrapped up the business sessions and concluded with company awards and a concert headlined by composer Hans Zimmer and his band backed by the Salt Lake City Symphony orchestra and members of the Mormon Tabernacle Choir.
With such a diverse array of activities and needs across three days of the event Featherstone was challenged to design a flexible and versatile lighting rig. "We designed a core rig, which worked well for all functions and included some feature pieces," says Featherstone. "We used close to 1,000 moving lights."
The support provided to Featherstone by Video West represented a recent significant capital investment by the audio, video and lighting equipment vendor.
The Nu Skin event marked Featherstone's first use of Claypaky Scenius Unico fixtures. He mounted 50 on truss hoping to "get comfortable with them and give them a good test drive," he says.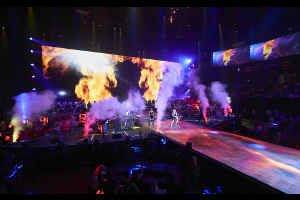 "One of the hallmarks of Claypaky lighting," says Featherstone, "is that it's organic: the fixtures have beautiful peak fields," an attribute that served him well using Scenius Unicos for Nu Skin. "We did a series of kabuki drops to define the arena floor for the fundraising dinner," he explains. "Then we wanted to light the audience for the Maroon 5 concert. Because of Unico's peak field distribution we could paint the audience with soft light and texture. A beautiful undulating pattern of light and shadow rippled through the audience." Unicos also lit the audience for the business sessions and for the Hans Zimmer concert.
Featherstone was "thrilled" by the lights' performance. He calls out their "fantastic high CRI and beautiful coloring," noting that he often works on automotive and tech events "where accurate CRI is incredibly important."
LoDico points out that Unico is "a bit of a Swiss Army knife of a fixture: it's a shutter light, a profile, a good wash and animation."
Featherstone also used 28 Mythos2 on trusses above the stage where they acted as "big fat rock show beams and gobos to texture the stage and audience. Certain items could be hard-printed on my bid list, and Mythos is one of them. They tick the box for any kind of narrow-beam light. They're a go-to light for us."
He reports that the team from Lightswitch and Video West received "robust support" from ACT Lighting for the event. "They're always ready to go whatever we're doing," says Featherstone. "It's rare that we do a show without some degree of dialogue with them. The ACT team delivers world-class back up time after time."